Amidst the rising cases of coronavirus in the country, including fatalities, the Federal Ministry of Education has announced that the January 18 school resumption date stands.
The Director of Press and Public Relations, Ben Goong, said the ministry undertook a comprehensive appraisal of the situation before arriving at this conclusion.
"After extensive consultations with relevant stakeholders, including State Governors, Commissioners of Education, Proprietors and heads of institutions, staff unions and students, the consensus of opinion is that the resumption date of 18th January should remain, while parents and respective institutions must ensure full compliance with COVID-19 protocols," he said.
In this #TogerherAgainstCorona Tweet Chat, I shared had a conversation with Tosin Paul, a fellow National Social Media Influencer at Search for Common Ground and other tweeps to discuss the issues surrounding the pandemic and infodemic in the midst of school resumption.
The Federal government had declared that schools should open so that teaching and learning can begin…. In as much as we know that the virus is still out there what do you think can be done?
@JulianaAhua: As much as we may try to observe protocols, children will always be children, they will play. At the same time, we can't keep schools closed when markets are open, the virus is here to stay, they should just hasten up with the vaccine process.
@CletusIlugo: Parents and guardians should ensure that they educate their children/wards properly on #COVID19 guidelines it's for the safety of yourself and that of your children….
So, besides the #COVID19 protocols which includes, wear your nose mask, keep your distance, sanitize or wash and sneeze in the elbow. What next?
Tosin: We all know the basic protocols and preventions, but how many of us really obey these protocols like wearing of Nose mask, using of hand sanitizers, keeping distance…
Joey: Aside the basic preventive measures we also need to avoid infodemic; own up by not spreading fake news about #COVID19. You can always get verified information on the NCDC website. Think, verify, before you share those WhatsApp messages and Text messages.
Teachers can ensure that the sitting arrangement in the classroom are in line with the social distancing guidelines by NCDC to avoid body contact as much as possible amongst the students… But who monitors this procedure?
I think there's a #Covid19TaskForce at the national and state level, this is where they need to act up. We need them to ensure all schools adhere to the Guidelines. The state ministry of education and t5he area education office will also need to work hard.
Moving forward, I am of the opinion that Assembly should be canceled once the school resumes… This will let the students avoid unnecessary body contact and keep social distance… What is your opinion?
Seconded. There should be constant social distance, see this infographic by NCDC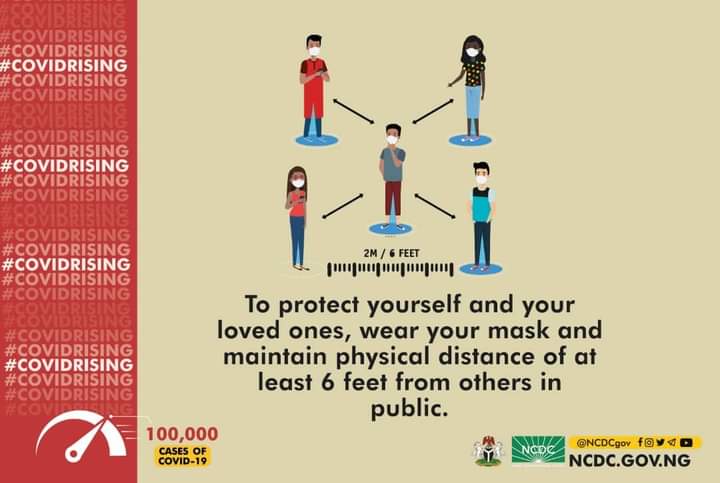 Are you of the opinion that students and Teachers should be tested on or before resumption? and if yes how possible, is this considering the limitations?
This is achievable, the government needs to help us achieve this.
It's crystal clear that everyone of us has a role to play in ensuring safety for ourselves and our loved ones even as the schools are resuming tomorrow #TogetherAgainstCorona and we shall win.
Sure, Thanks for doing this with us!